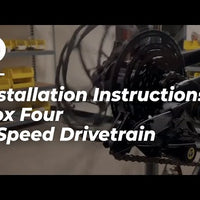 SKUBX-SH4-08AMS-BK
The Box Four shifter's main features aren't strikingly different from Box Three's. The key difference is its 8-speed platform. We've chosen to modernize the 8-speed in much the same way we did the 9-speed for Prime 9. Just like the Prime 9, the Box Four shifters take advantage of the "less is more" theme and exploit durability, simplicity, and reliability. Available as a multi-shift (pull several gears at once) or single-shift shifter (a sound choice for e-bikes).
Our 8 is Enough Shifter
Lightweight Extruded Clamp
Responsive 2 Piece Pull Lever
MTB Style Release Lever (V2)

Box Four 8-Speed Wide Rear Derailleur Black
Box Four 8-Speed 116 Link Chain Natural
Box Four 8-Speed 11-42T Cassette Black
Box Four 8-Speed Wide/Narrow Chainring 104BCD 32T Black
Process/Material
• Top Shell: Injection Molded / Glass Fiber-Nylon
Composite
• Bottom Shell: Injection Molded / Glass Fiber-Nylon Composite
• Pull Lever: Injection Molded / Glass Fiber-Nylon Composite
Finish: Matte Black
Speeds: 8
Cable: Stainless Steel Braided
Compatibility
• Platform
• Single Shift: Ebike
• Multi Shift: Non-Ebike (Up to 2 gears per shift)
• Derailleur
• Box Four 8 Speed
Weight: 128g/4.5oz
Does the Box Four Shifter come with a cable?

Yes. All Box One Shifters come with a stainless steel shift cable.

How do I remove the cap from the cable port to install a new cable?

To remove it, use a Phillips head screwdriver and turn it counter-clockwise a quarter turn You can then push the cap out by applying pressure to the cable from the other side. Please Note: The Cable Port is not a screw that un-threads from the cable port, if you turn the cable port screw more than 90 degrees damage may occur.

Is the Box Four Shifter compatible with other 8 speed derailleurs?

No, traditional 8 speed systems use a Cable Pull that is not compatible with Box Four components.