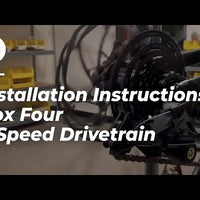 Box Four 8S Wide Single Shift E-Bike Groupset
SKUBX-DT4-08ASW-KIT
Our Box Four tier is for those people who just want less fuss! You're fond of Prime 9, but know 8 is enough, and surely 12-42T is plenty of range for an 8-speed cassette. Our derailleur still has the Limited Slip clutch but now arrives with a more compact cage. The custom 8-speed chain is built for abuse, although it's sophisticated enough to have its own Wide/narrow chainring. Push through fewer gears with a no-nonsense single shifter whose action is limited to one downshift per lever swing. This combo will transport your E-bike to 1 by territory for less than $200.
INCLUDES
SUPPORT MATERIAL
Chain: 144L option available, sold separately
Derailleur hangers

Q: Can I install this on my bike that uses a b-link for my current derailleur?

A: Yes! All you need to do is remove your old derailleur and the b-link leaving the standard hanger attached to your bike frame. You can now mount your Box Components derailleur directly to the hanger on your frame.

Q: Can I install this on my bike that currently has a direct mount hanger?

A: Possibly, you will need to see if your frame manufacturer or a third party like wheelsMFG offers a standard mount hanger for your frame.

Cassette Body

Q: Will Box be making cassettes compatible with XD or Microspline driver bodies?

A: At this time our cassettes are only compatible with HG style MTB 8/9/10 speed or road 11 speed driver bodies. Most hub manufacturers offer the different

Please see page 6 of our guide for notes regarding the 2 HG drivers.

Crankset compatibility

Q: Can I use X crankset with Prime 9?

A: We recommend 1 by specific cranksets to achieve proper chainline and performance. The crankset you choose will depend on your bike frame and budget.

Chainring Compatibility

Q: Can I use my standard chainring with your Prime 9 drivetrain?

A: For the best performance and chain retention we recommend you use a narrow wide 11 speed chainring. This will best match the internal geometry of our chains and provide you with the best riding experience. These are some of the brands we recommend, Wolftooth Components, Raceface, One Up Components, Absolute Black.
Customer Reviews
07/05/2022
Todd A.
United States
Box Four 8S E-Bike Groupset
Great product at a great price!
01/04/2022
BRIAN D.

United Kingdom
8 speed + wide range = ideal for ebikes, but watch out for link glide!
Pretty impressed with the solidity/positivity of the shifter and derailleur, but the longevity of the cassette was only 765 miles. Maybe changing the chain at 0.5mm wear rather than 0.75 would have allowed me to stretch it further, although that would mean a chain every 500 miles at a guess. To be clear this chainset was used in the worst conditions possible (British winter) but, gritty/muddy trails 12.5 miles each way daily on a fairly spritely ebike, I did do a thorough cleaning when getting home if it was a wet/muddy day, but this didn't seem to allow it to last any longer than my old shimano 10 speed setup (1047 miles and still good). Replacement chains/cassettes can be had fairly cheap, but with Shimano linkglide now available, with it's possible 3x longeivity this is no longer such an attractive prospect, which is a pity as I really liked the feel of it.
09/09/2021
Patrick E.

United States
Excellent upgrade for my old Shimano XT
I converted my old Cannondale to an ebike using a TSDZ2. On the first ride using the original Shimano XT 9-speed, I dropped the chain on a bumpy downhill section. I upgraded to the 8-speed with the chainring and haven't lost a chain since. The extra range on the low-end is really nice and the 32Tx46T gear allows me to climb almost anything. Its very robust and I can shift under power even with the motor putting out about 750W. The value is excellent and compared to other extremely expensive drivetrains, I can affordably replace components if they wear out from the added load of the motor.