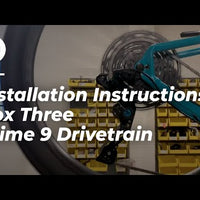 Box Three P9 Wide Single Shift E-Bike Groupset
SKUBX-DT3-P9ASW-KIT
Our Box Three tier delivers many of the same capabilities of its more famous siblings yet it's built upon a simpler platform. The cassette is E-bike Optimized at 12-46T, adding an extra tooth to each of the three highest gears. The derailleur exploits our Limited Slip clutch technology without the Tri-pack features. The action on the shifter is limited to one downshift per lever swing, although you'll forgo the hinged clamp and die-cast structure. And lastly, string it all together with a Prime 9 chain but without extravagant coatings. If you're looking to bring your 2/3 by bike into the 21st century, then level up with this group!
INCLUDES
SUPPORT MATERIAL
Compatible with most 10,11, & 12-speed wide / narrow chain rings. Prime 9 chain must be used.
Gears: 12 - 14 - 16 - 18 - 22 - 28 - 34 - 40 - 46
Chain: 144L option available, sold separately
Derailleur hangers

Q: Can I install this on my bike that uses a b-link for my current derailleur?

A: Yes! All you need to do is remove your old derailleur and the b-link leaving the standard hanger attached to your bike frame. You can now mount your Box Components derailleur directly to the hanger on your frame.

Q: Can I install this on my bike that currently has a direct mount hanger?

A: Possibly, you will need to see if your frame manufacturer or a third party like wheelsMFG offers a standard mount hanger for your frame.

Cassette Body

Q: Will Box be making cassettes compatible with XD or Microspline driver bodies?

A: At this time our cassettes are only compatible with HG style MTB 8/9/10 speed or road 11 speed driver bodies. Most hub manufacturers offer the different

Please see page 6 of our guide for notes regarding the 2 HG drivers.

Crankset compatibility

Q: Can I use X crankset with Prime 9?

A: We recommend 1 by specific cranksets to achieve proper chainline and performance. The crankset you choose will depend on your bike frame and budget.

Chainring Compatibility

Q: Can I use my standard chainring with your Prime 9 drivetrain?

A: For the best performance and chain retention we recommend you use a narrow wide 11 speed chainring. This will best match the internal geometry of our chains and provide you with the best riding experience. These are some of the brands we recommend, Wolftooth Components, Raceface, One Up Components, Absolute Black.
Customer Reviews
07/02/2022
Jay S.
United States
Awesome
Not only is the groupset awesome, but the customer service is exceptional.