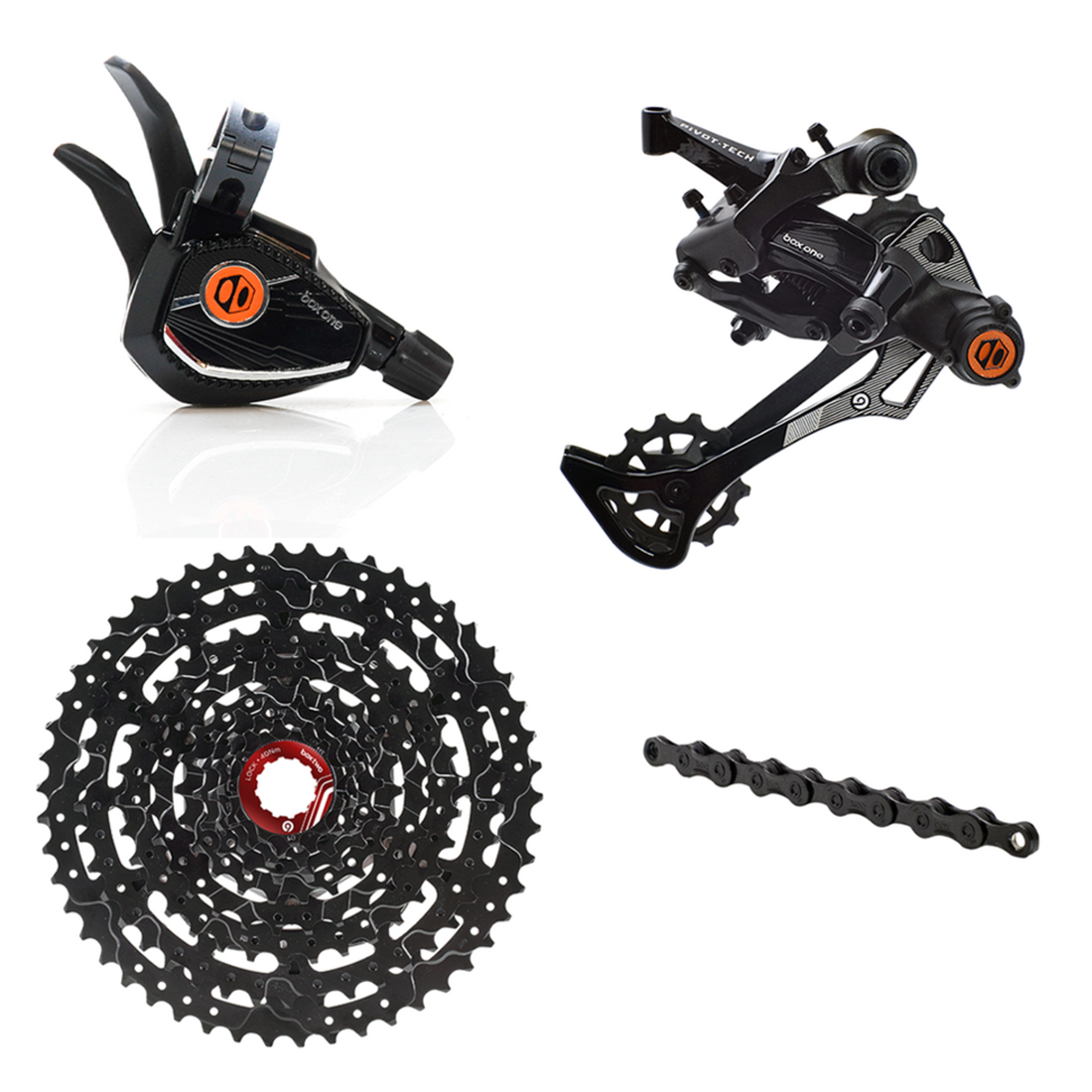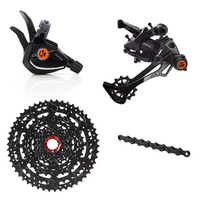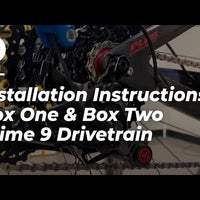 Box One/Two P9 X-Wide Multi Shift Groupset
SKUBX-DT12-P9AMXW-KIT
Did you know that you can mix and match Prime 9?
Want some of the advanced features and feel of Box One but need extra service life? Try out our Box One/Box Two Hybrid Prime 9 Groupset! With this pre-configured and pre-tested option, you'll receive a Box One shifter, derailleur, and chain paired to the durable Box Two cassette. And you'll save almost 250 bucks while you are at it.

INCLUDES
Our Box One tier is for those of you who just aren't satisfied with anything but the BEST! You like to get up there where the air is thin and the details matter. The chain's surface is Dual-coated with DLC + Nickel and is both beautiful and durable. Your thumb will push a textured die-cast lever on a shifter that's had its hinged clamp whittled away by our CNC machines. Let's finish this package off with a derailleur that flaunts a Fully Adjustable Tri-Pack™ Clutch and super smooth sealed bearing pulleys. Pamper yourself a little; you know you deserve it.

Our Box Two tier's mission in life is to deliver performance similar to the Box One but without its exotic (and costly) features. You still get the Tri-Pack™ Clutch in our derailleur only it isn't adjustable. The cassette's 11-50T range is equally impressive but we don't cut it out of a single block of steel. The action on the shifter is just as snappy although you don't get the rigid die-cast pull lever. The chain boasts the same unique ability to mate with a wide/narrow chainring except you give up the trick DLC top coat. You're hardly shortchanging yourself with Box Two.
Includes Shift Housing Kit
Not Intended for E-Bike Use
Compatible with most 10,11, & 12-speed wide / narrow chain rings. Prime 9 chain must be used.
Q: What is the difference between the Wide and X-Wide?
A: The Wide cassette offers an 11-46T range while the X-Wide offers an 11-50T range.
Derailleur hangers

Q: Can I install this on my bike that uses a b-link for my current derailleur?

A: Yes! All you need to do is remove your old derailleur and the b-link leaving the standard hanger attached to your bike frame. You can now mount your Box Components derailleur directly to the hanger on your frame.

Q: Can I install this on my bike that currently has a direct mount hanger?

A: Possibly, you will need to see if your frame manufacturer or a third party like wheelsMFG offers a standard mount hanger for your frame.

Cassette Body

Q: Will Box be making cassettes compatible with XD or Microspline driver bodies?

A: At this time our cassettes are only compatible with HG style MTB 8/9/10 speed or road 11 speed driver bodies. Most hub manufacturers offer the different

Please see page 6 of our guide for notes regarding the 2 HG drivers.

Crankset compatibility

Q: Can I use X crankset with Prime 9?

A: We recommend 1 by specific cranksets to achieve proper chainline and performance. The crankset you choose will depend on your bike frame and budget.

Chainring Compatibility

Q: Can I use my standard chainring with your Prime 9 drivetrain?

A: For the best performance and chain retention we recommend you use a narrow wide 11 speed chainring. This will best match the internal geometry of our chains and provide you with the best riding experience. These are some of the brands we recommend, Wolftooth Components, Raceface, One Up Components, Absolute Black.