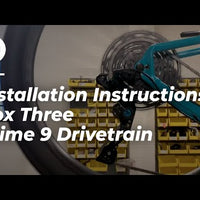 Box Three Prime 9 11-46T / 11-50T Cassette
SKUBX-CS3-P9A1146-BK
The Box Three cassette draws from both of its Box One and Box Two siblings to create a sensible all-rounder. All cogs are stamped from steel and subsequently, the larger ones are pinned to steel spiders. The main difference here versus Box Two is the use of additional weight-reducing holes on the cogs.
FAQ


Q: What is the difference between the Wide and X-Wide?
A: The Wide cassette offers an 11-46T range while the X-Wide offers an 11-50T range.


Our Best All-Rounder Cassette
Steel Stamped Cogs
Steel Stamped Spiders
Ultra-Wide Ratio with Consistent Progression
Box One Prime 9 Chain 126L DLC Black
Box Two Prime 9 126 Link Chain Nickel
Box Three Prime 9 126 Link Chain Polished
Box One Prime 9 Rear Derailleur
Box Two Prime 9 X-Wide Rear Derailleur Black
Box Three Prime 9 X-Wide Rear Derailleur Black
Box One Prime 9 Shifter Black
Box Two Prime 9 Shifter Black
Box Three Prime 9 Shifter Black
Process/Material
• Cogs: Stamped / Hardened Steel
• Spider: Stamped / Hardened Steel
• Lockring: CNC / Hardened Steel
Finish: ED Black
Speeds: 9
Gear:
[11-46T] 11 - 13 - 15 - 18 - 22 - 28 - 34 - 40 - 46
[11-50T] 11 - 13 - 15 - 18 - 22 - 28 - 34 - 42 - 50
Compatibility
• Platform
• Non-Ebike
• Driver: HG Freehub Body
• Chain:
• Box One Prime 9
• Box Two Prime 9
• Box Three Prime 9
Weight:
• [11-46T] 565g/19.2oz
• [11-50T] 660g/23.2oz
Q: What is the difference between the Wide and X-Wide?
A: The Wide cassette offers an 11-46T range while the X-Wide offers an 11-50T range.

Will the Box Three Prime 9 Cassette fit on a wheel with a Sram XD Driver?
No this will only work with a HG splined Shimano 9-10-11 speed freehub body.

Is the Box Three Prime 9 Cassette compatible with other 9 speed drivetrains?
No, The Box Three Prime 9 Cassette is optimized for Box Prime 9 drivetrains and running other component variations can result in poor performance.

How should I clean my Three Prime 9 Cassette?
We suggest removing the cassette from the wheel and using a soft bristle brush with soapy water or a mild degreaser. We do not recommend pressure washing, strong solvents or de-greasers as they could degrade the surface coating.

Will Box be making cassettes compatible with XD or Microspline driver bodies?
At this time our cassettes are only compatible with HG style MTB 8/9/10 speed or road 11 speed driver bodies. Most hub manufacturers offer the different