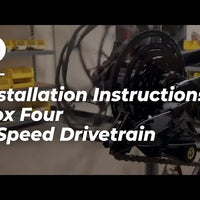 Box Four 8 Speed 116 Link Chain Natural
SKUBX-CN4-08A116-TI
The Box Four chain employs an 8-speed platform in a similar strategy to the Prime 9 but at a great price point. The chain is polished and then chemically treated to achieve corrosion resistance. We engineered the inner link spacing to be a little tighter than other 8-speed chains and is optimized for use with our Box Four Wide/Narrow Chainring.
Our 8 is Enough Chain
Durable Hardened Solid Pins
Includes Connecting Link
Box Four 8 Speed Shifter Black
Box Four 8 Speed Wide Rear Derailleur Black
Box Four 8 Speed 11-42T and also 12-42T eBike Cassette Black
Box Four 8 speed Wide/Narrow Chainring 104BCD 32T Black
Process/Material
• Stamped / Hardened Alloy Steel
• Pin Type: Solid
Finish: Natural
Speeds: 8
Salt Spray Life: 15 hours
Compatibility
• Platform
• Ebike
• Non-Ebike
• Chainring: Box Four 8 Speed Wide Narrow
• Cassette: Box Four 8 Speed
• Cross Tier Compatibility
• Box Four 8 Speed Only
Weight: 364g/12.8oz
Is the Box Four Prime 9 Chain compatible with other 8 speed drivetrains?
Yes, The Box Four Prime 9 chain has standard external geometry that will work with most existing 8 speed drivetrains.

Is the Box Four Prime 9 Chain Compatible with any wide narrow chainring?
No, we make a Wide/Narrow Chainring specific for use with Box Four 8 Speed drivetrains.

How should I clean my Box Four Prime 9 Chain?
We suggest removing the chain from the bike and using a soft bristle brush or rag with soapy water or a mild degreaser. We do not recommend pressure washing, strong solvents or de-greasers as they could degrade the surface coating.