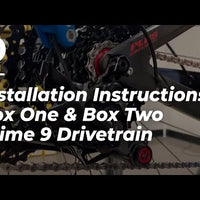 SKUBX-SH1-P9AMS-BK
The Box One multi shifter is the only shifter on the market that comes factory stock with a hinged (and machined) clamp. It's top of the line and comes packed with other features such as a durable cast aluminum pull lever and top shell. All Prime 9 shifters take advantage of the 9-speed's inherent durability, simplicity, and reliability. Not only is the shifter mechanism joyfully simplified, but fewer shifts are needed for every mile of travel. And the best part is?  Prime 9 is also terribly forgiving so you won't have to constantly adjust your set-up. Available as a multi-shift (pull several gears at once) or  single-shift shifter (a sound choice for e-bikes). 
Our Best Performing Shifter
Lightweight Hinged & Machined Clamp
Responsive 1-Piece Pull Lever
MTB Style Release Lever (V2)

Box One Prime 9 11-50T Cassette Black
Box Two Prime 9 11-50T Cassette Black
Box Three Prime 9 Cassette Black
Box One Prime 9 Chain 126L DLC Black
Box Two Prime 9 126 Link Chain Nickel
Box Three Prime 9 126 Link Chain Polished
Box One Prime 9 Rear Derailleur
Box Two Prime 9 X-Wide Rear Derailleur Black
Box Three Prime 9 X-Wide Rear Derailleur Black
Process/Material
· Top Shell: Die Cast / Aluminum
· Bottom Shell: Injection Molded / Glass Fiber-Nylon Composite
· Pull Lever: Die Cast / Aluminum
Finish: Hard Onyx
Speeds: 9
Cable: Box One Slick Coated
Compatibility
· Platform
· Single Shift: Ebike
· Multi Shift: Non-Ebike (Up to 2 gears per shift)
· Derailleur
· Box Two Prime 9
· Box Three Prime 9
Weight: 130g/4.6oz
Does the Box One Prime 9 Shifter come with a cable?

Yes. All Box One Shifters come with a stainless steel shift cable.

How do I remove the cap from the cable port to install a new cable?

To remove it, use a Phillips head screwdriver and turn it counter-clockwise a quarter turn You can then push the cap out by applying pressure to the cable from the other side. Please Note: The Cable Port is not a screw that un-threads from the cable port, if you turn the cable port screw more than 90 degrees damage may occur.

Is the Box One Prime 9 Shifter compatible with other 9 speed derailleurs?

No, traditional 9 speed systems use a Cable Pull that is not compatible with prime 9.